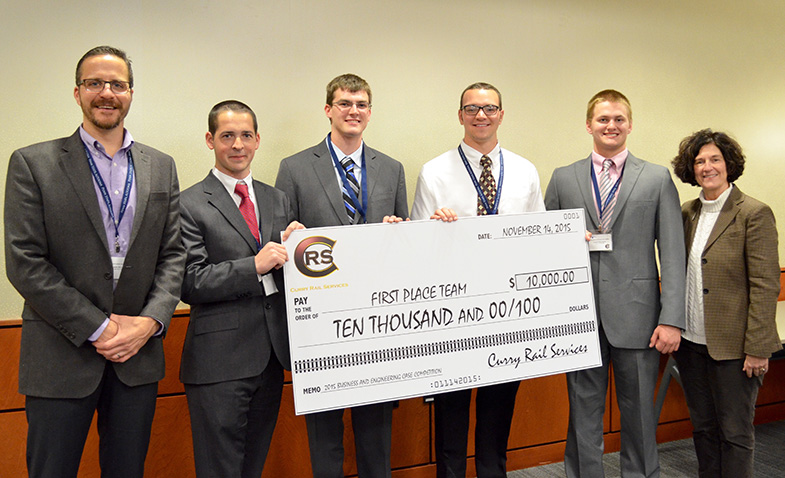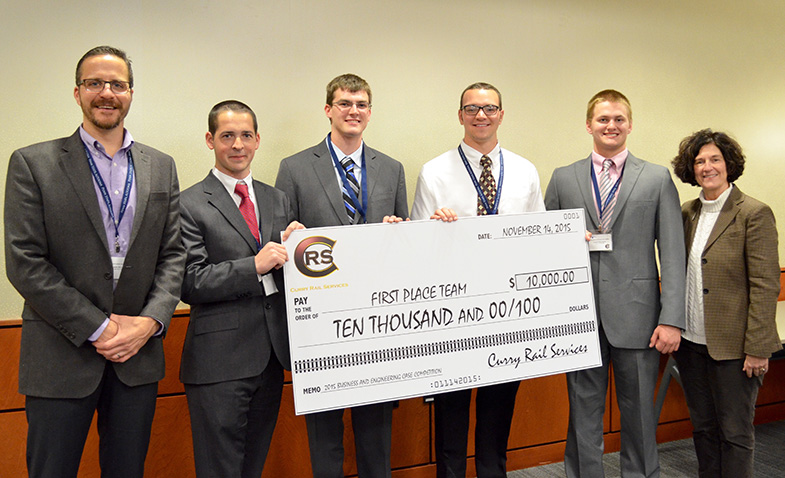 As corporate sponsors of the 2015 Penn State Altoona Engineering & Business Case Competition, Curry Rail Services (CRS), Hollidaysburg, PA, hosted the competition and provided scholarship support to the winning teams. Held Nov. 12-14, the competition challenged ten teams of engineering and business students (40 students in all) to develop a marketing strategy for a new product offered by Curry Rail Services.
CRS employees and Penn State Alumni and faculty served as judges for the student presentations. On top of $10,000 to sponsor the event, the company awarded $16,000 worth of scholarships through its foundation. Each of the four students on the winning team received a $2,500 scholarship. The four members of the second-place team each received a $1,000 scholarship, and the two student chairs of the competition each received $1,000 scholarships.
The three-day competition began with an evening reception on Nov. 6 hosted by CRS. The case and instructions were distributed to the students Friday morning. Teams were allotted twenty-four hours to prepare their case before first-round presentations began Saturday morning. Finalists presented their case Saturday afternoon. The winning team was announced during the evening awards program.
"We are extremely pleased and honored to be the sponsor of the 2015 Engineering and Business Case Competition," says Mark Ritchey, president of CRS. "It is truly an advantage for our company to have such a great and local resource in Penn State Altoona. As a business, it is important for us to invest in our educational system so we will have experienced individuals capable of filling our employment needs. These young, inspiring students are the future and it was an amazing opportunity to have them showcase their talents."
Judging was based on overall performance, quality of analysis, presentation, and a question-and-answer session. Members of the winning team were David Fillman: junior in Rail Transportation Engineering, Lucas Aland: junior in Rail Transportation Engineering, Jacob Byers: junior in Business (Management and Marketing Option), Sheetz Fellow, and Luke Hallman: junior in Business (Management and Marketing Option), Sheetz Fellow.
"The 2015 Engineering and Business Case Competition was a great success," said Bryan Schlake, instructor in rail transportation engineering. "The competition provided a unique experience for business and engineering students to come together in a real-world environment to create real-life solutions faced by a local company. Curry Rail Services was an ideal sponsor for this competition, as the case challenged our students to think outside the box to develop a viable business solution."